Facetime is among the one of the most popular application among apple users. The application facilitates iPhone and iPad users to do video and audio calls to another apple users local and internationally.
The official IOS application comes pre-installed in Apple iPhone, iPad and Mac, If not you always have the option to download it through the Apple App store.
A lot of user that uses Facetime regularly ask one question;
Also Read:
Is Facetime International free in 2023?
Yes, FaceTime is free internationally. This means you won't get charged directly from your cellular balance for using FaceTime for international calls in 2023.
However, It's a VOIP (Voice over internet protocol) service, which means it only works with an active internet connection or Wi-Fi.
So, facetiming someone internationally will incur you charges in terms of 3G/4G/LTE/5G data balance in case of mobile internet or just Wi-Fi charges.
As most people think that if you have a Wi-Fi connection at home, it means you have free internet; and that the main myth people ask;
Is Facetime Free on Wi-Fi
Technically, Facetime is never free. Whether you are using mobile internet or Wi-Fi.
Let's understand this in a very simple way based on the situation.
Mobile Internet – If you using mobile internet, then using facetime locally or internationally will use your internet quota which is 3G/LTE/5G data based on usage.
For Eg – For a 2 minute facetime call, the data balance get reduced by approx. 20 – 30 MB
Wi-Fi – In case of Wireless Fidelity, Using facetime locally or internationally, will use your broadband internet quota balance.
So, if you have an unlimited internet plan, then it is literally free internet use it whenever you want.
But, if you are on limited internet plan, then you have to take note of how much bandwidth a facetime call will consume and then accordingly, You can time limit your calls to save data balance.
How to FaceTime International Number?
Doing facetime calls locally or internationally does not make any different. The process for both is same.
You just need to have an active internet connection to complete a facetime call
How to facetime an international number not in contacts
Open the facetime app
tap on the New faceTime option
Enter the email or phone number of the person you want to facetime
click on the audio /video call to initiate the call
How to Facetime international number saved in contacts
Open the conaacts app
Scroll the number you can to facetime
Tap on the number
Here, you will see an optionto start a facetime call as show in the image below.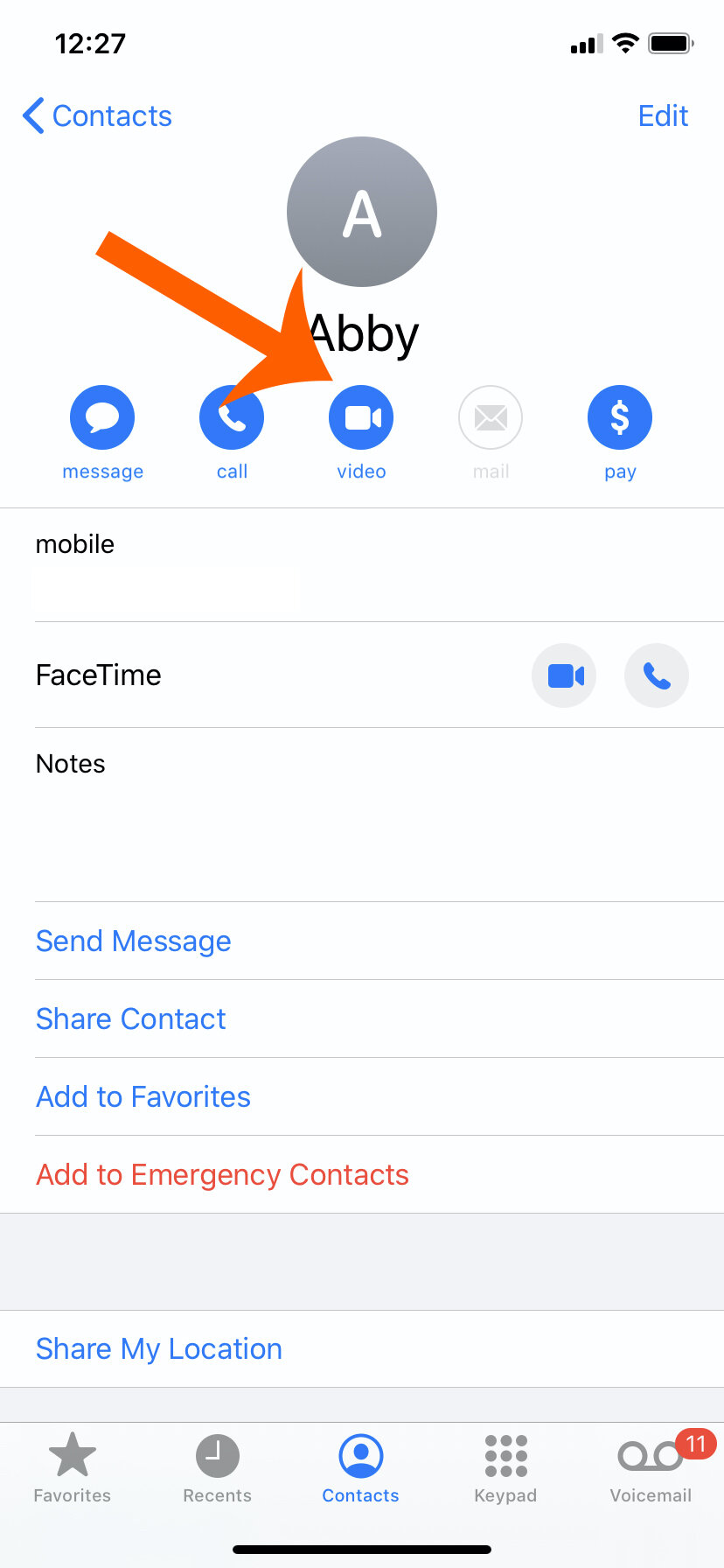 Also Rad:
Is FaceTime Free Internationally Without Wi-Fi
If your are using facetime in the country where your sim card is registered then it's free.
But, if are in another country, then you have to pay data roaming charges as per the cellular plan you have. For actual prices and details, you can contact your cellular service provider.
Also, individuals who are on pay-as-you-go plan must keep a close eye on the data balance each facetime is consuming, as it takes a lot of internet data during a facetime call. Which at the end converts into your bill.
How to do international facetime free
There are way to do international facetime free. Let's check them one by one.
Method 1
Search for the nearby secure wi-Fi option. You may go to restaurants or place that offers free internet.
Note: Always connect to secure wifi hotspots which you think are safe. As connecting to unsecure network result in online frauds.
Once you are connected to the internet, You can use their wifi network to do international facetime free.
Method 2
If you are out on a vacation, and wan to do international facetime free. Then, one best place is your hotel where you checked in.
Usually, hotels do provide wifi access to their guests.
You can humbly ask them for wifi password. Once you are connected then you are good to go.
Facetime audio vs phone call
FaceTime audio calls are different from regular phone calls.
FaceTime Audio Calls – FaceTime work on VOIP, which means facetime work on active internet connection to complete the call.
Using FaceTime costs you in the form of data balance and it will automatically get dedicated from the quota.
Phone Calls – Cellular phone call are powered by by cellular reception that you get from your mobile service provider.
Using phone calls will directly cost you money and get adds to your monthly bill.
Related Question
can you facetime internationally
yes, you can facetime internationally free. You just need free internet source or wifi connection that you can use to do facetime calls.
Does facetime work internationally
yes, facetime works internationally. You just need an apple device connected to the internet to do a facetime call
Facetime data use
Facetime data usage depends on the whether it's a audio call or a video call.
Does facetime cost money
Indirectly, facetime cost you money. Facetime work on internet and to top up internet you have to pay bill using money.
Does facetime use cellular data
If you doing facetime calls through cellular network, then yes facetime will use cellular data
Can I facetime internationally
Yes, you can facetime internationally. You just need an active internet connection