Text messaging is still one of the popular conversation app for many smartphone users. In iPhone, the default text message application is known as iMessage.
It's the default application that allow conversation between two user having iPhone is a more connected and engaging manner. But, sometime, you do not want to receive messages from a particular contact for some reason. But you don't want to block a person on iPhone from all sort of communication methods.
For this kind of situation, I have a very appropriate solution that you can follow;
To stop receiving text messages without blocking on iPhone
How to stop receiving text messages on iPhone, you simply have to re-configure the SMS permissions on the iMessage and you won't receive text message
Now, let's dive deep into today's topic of how to stop receiving text messages from someone.
To stop receiving text messages, follow the below steps:
Step 1: Open the settings app
Step 2: Scroll down to Messages
Step 3: Open it and you will see iMessage
Step 4: By default, iMessage is enable in the iPhones
Step 5: Turn iMessage off
As long as iMessage is disabled, you won't receive any Message on your phone.
This also implies that you won't be able to use iMessage either. Yup so, decision is yours.
So, the above method is for iMessage. What about on messaging app;
How to stop receiving text messages from another iPhone
If the above method does not resolve your problem of; To stop receiving text message on iPhone, you have to eject the sim card from your iPhone.
This way your device will not receive any cellular signal.
Hence, you won't be receiving any message.
Mute Individual Conversations
Another good way is to mute the conversation.
If you want to stop receiving text messages from a specific person, you can mute their conversation.
This method ensures that you won't receive notifications for that particular conversation. To mute a conversation:
Open the Messages app on your iPhone.
Find the conversation you want to mute.
Swipe left on the conversation and tap on "Hide Alerts."
More Question Related to Stop Receiving Text Messages on iPhone
Can You Temporarily Stop Receiving Text Messages?
The answer to question, how to stop unwanted texts on iphone, is yes, You have to temporarily disable IMessage.
Whenever you want to allow messages, simply enable the iPhone service.
How To Not Receive Messages On iMessage Without Blocking
Simply turn off the iMessage on your iPhone and you won't receive any message on it until you again enable it.
But, do remember that disabling iMessage on iPhone will also restrict you from sending iMessage to another contacts as well.
How To Disable Messages Notification on iPhone
To do this,
Step 1: Open the settings app
Step 2: Scroll down to Messages option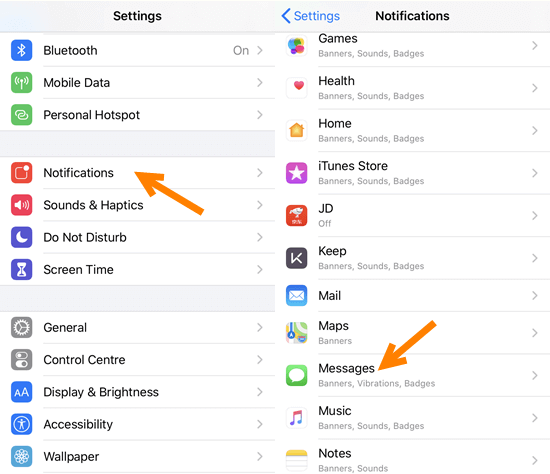 Step 3: Inside, messages, you will see an option "Notifications"
Step 4: Simply, turn off the "Allow Notification" Option
And all your message notification will be turned off.
Also, if you want this to be a scheduled process. For example; During office hours, you don't want to be disturbed with message notifications.
You can do so by adding this to "Scheduled summary" and set a preferred time for the same.